Please find below two maps to help you find this paradise easily and quickly. You will find all you need to know by clicking below.
- Island map showing Ilha do Guajirú in it's natural beauty
- Tourist map showing Ilha do Guajirú beaches, activities & facilities.
Please click on each map in the left-hand menu to print or enlarge.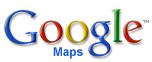 All the Ilha do Guajirú spots stated here are added to Google Earth so it is easy to find out exactly where to locate these amazing spots! Click here to download Google Earth if you are not hooked allready!
Also online at Google Maps you can find all spots. Check it out!